Guide des Ateliers d'Artistes de France (Ed. Patou)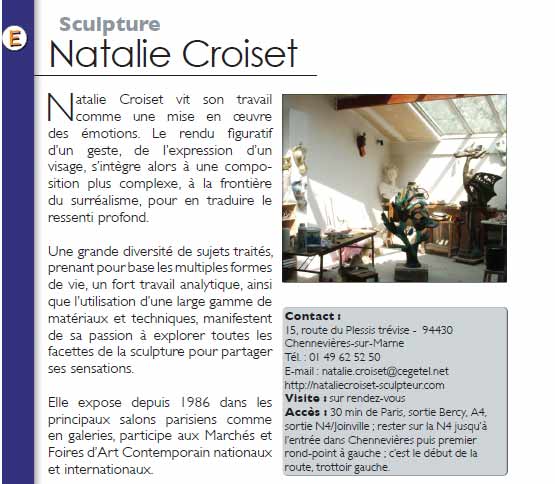 EXPOSITION Espace Paul Valery
Natalie Croiset
Un ballet de résine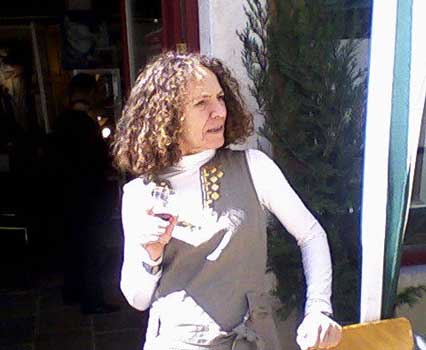 "QUAND on évoque la sculpture, on pense naturellement à la blancheur de la pierre ou à verdâtre du bronze .
Ici, il n'est question que de lumière et de couleurs. La résine, colorée et translucide transfigure l'immobile et lui donne vie, comme le ferait un prisme. Le soleil, par exemple, rayonne d'un jaune orangé estival qui ravit les yeux et le coeur.
A la question "la sculpture est votre passion ?" posée par une personne lors de l'inauguration de l'exposition, Natalie Croiset eut une réponse qui pouvait sembler de prime abord hors sujet : ma première passion, c'est la danse'.
Et à bien y regarder, certaines sculptures exposées évoquaient effectivement à n'en pas douter la danse. La "valse" bien sûr, mais également "l'ave Maria païen" où une sylphide élancée, corps tendu sur demi-pointes regarde le ciel dans un mouvement de prière. Ou encore cette invitation au "voyage" oeuvre non figurative où de longues et ondoyantes textures semblent nous montrer un chemin, une route vers un ailleurs.
Ce que les mots peinent parfois à dire sort souvent tout naturellement des mains du sculpteur. ... "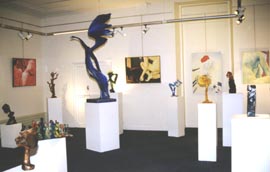 Quelques Expositions

Salon d'Automne - Salon des Indépendants - Salon des Artistes Français - Bastille, Grand Marché d'Art Contemporain - Art-Expression, Nogent sur Marne - Galerie Titren, Beaune - Montserrat Gallery, New-York - Galerie Tiger, Paris - Salon de Rambouillet - Espace Paul Valery, Le Plessis Trévise - Salle Charles de Gaulle, Chennevières - Galerie Racine, Paris - Festival Eclats d'Arts, Meaux - Galerie Cécile Charron, Paris Village Suisse - ArtShopping, Carrousel du Louvre Paris - Canton, Chine, Foire internationale - Parc Floral , Vincennes - MAG, Montreux, Suisse - Galerie Haute Maison, Sucy en Brie - GMAC , Paris
suite de la visite :
Sculptures 1 Sculptures 2 Aluminium Masques Monumentales
Les Lampes les stages
Contact
Retour Accueil :

NY ART
Dorothy ROATZ Myers
"Natalie Croiset, an internationally recognized sculptor, exhibited her unusual work in New York City at Montserrat Gallery. It could be classified as figurative, -reality abstracted. Each piece is conceived from existing objects or personages. Her's is a unique style that combines and interprets imagery and gesture abstractly, but in such a way that her subject is quite apparent.
"Croiset received formal instruction in Paris but seems to instinctively apply academic principles in an individualized manner, innovatively distinctive. Balance and counterbalance, rhythm, and movement, are given due consideration, but she bends rules to further the impressions she aims to make and the messages she wishes to impart in these significant and important small works.
"Her splendid handling of scale, the relation of space to space, is worthy of special note, as is the emotionally charged quality they emit … they are a bit unsettling to contemplate as a result of their complexity. The unusual translucence of the material she uses, a resin to which she adds color, gives them an added dimension. Croiset pushes beyond existing artistic boundries; she expands them with remarkable success. The perceptive viewer will detect her fondness of classic dance underlying the execution of this body of work which , in the final analysis, is an outpouring of great talent augmented by well honed skill. (…) "